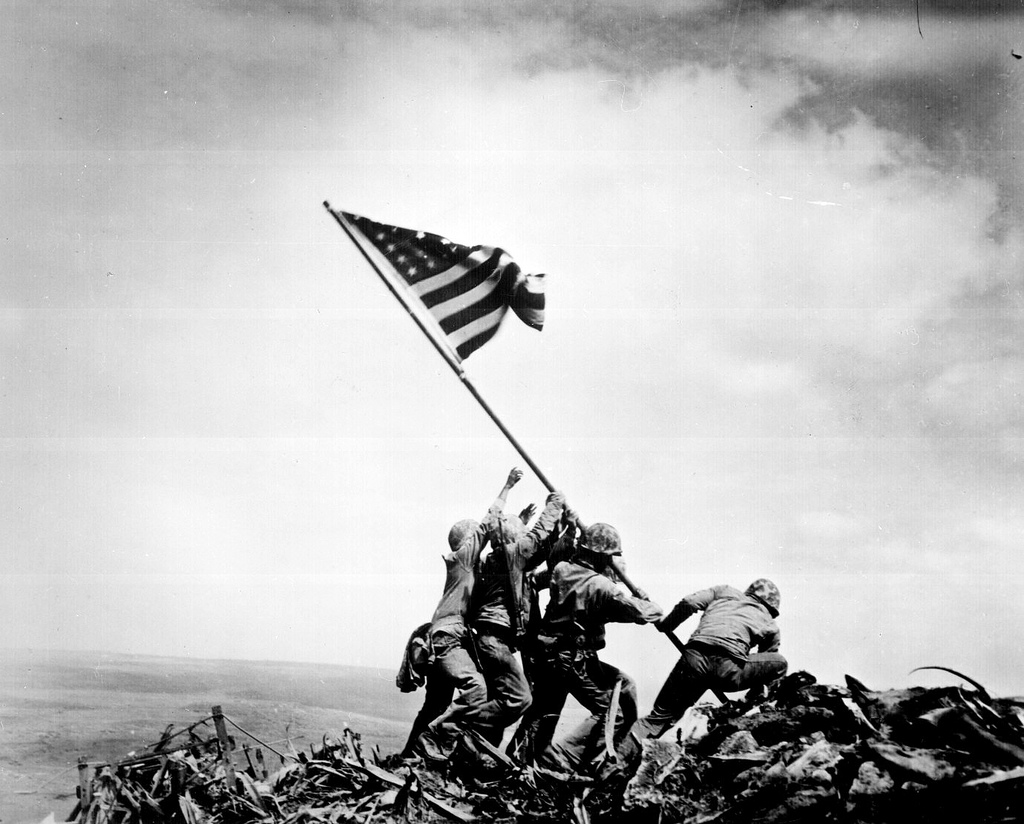 There is one photo that represents the valor exhibited when we answer the call of duty, and that is the picture of our Marines and Sailor raising the American flag on Iwo Jima's, Mount Surabuachi. We want to bridge the public and private sectors with loyal, motivated veteran heroes — adding another dimension to their dedicated service to their country.
​Legacy Beyond Valor is a Network Management Service consisting of six networks working together to maximize the effectiveness of our services. Our goal is to combine the efforts of public and private entities to provide creative solutions for the issues veterans face today. Some of the areas we are concentrating on include:
Creating a job board to connect job-seeking veterans and employee-seeking corporate and government partners.
Encouraging public and private entities to combine their respective efforts and expertise to solve problems facing today's veterans, and
Combining military values and discipline with training in the areas of science, technology, engineering, mathematics, and medicine to produce superior candidates for jobs critical to our national security.
​An unprecedented number of highly motivated, flexible, loyal Veterans are returning from serving our country. They not only want but need jobs in the public and private sectors; and they arrive with a heightened sense of alert enabling them to spring into action without hesitation.
I am one in the second of the four generations to have served in the military while my uncle David, just turned 92, years old is a WW II, Silver Star recipient, and I have shared the development of this network with him from the beginning as his encouragement has helped me stay focused on why we worked so hard. Veterans that live beyond their service do not stop being Americans, nor do their families stop loving them because things get tough at home, but there is so much more that we can do to help them make that transition to continue making their family's life better. The Beyond Valor, Network Platform, provides a strong foundation to strengthen each industry affected by the components of our National Infrastructure, and with the 14,169, members of my network that want to help us on LinkedIn.com, we can provide our Veterans, with mentors, local contacts for them at home. Beyond Valor, continues to gain the attention of individuals represent their passion for trying to do something to help, and they are drawn by their curiosity of how we could possibly work together to have a greater impact on help our Veterans.
On 8-2-17, Strive Healthcare and Veterans and First Responders Healthcare, opened the doors to their outpatient programs for Veterans dealing with PTSD, Mental Health and Substance Abuse, issues, and it became the product of all the hard work and sacrifices of Eric Frieman, Michael Evans, of Strive Healthcare and Eric Golnick, CEO, and Dr. Robert L. Pyles, MD, the Chief Medical Officer, of the Veterans and First Responders Healthcare. Eric Golnick, recounted his own traumatic brush with the reality of Suicide, as his friend shot himself right in front of him, and that is when he decided to do something about this tragedy that becomes a reality for 22, Veterans every day rain or shine. The opening ceremony was attended by the Governor, of New Hampshire, to show his support for these programs as he is working toward having a program opened in New Hampshire, and Eric Golnick, reported that they want to expand to the West Coast, as well as to the Houston, Texas area due to the concentration of Veterans coming from Beaumont, 90, miles away and Lufkin, 100, miles away.  Check them out on FACEBOOK, Strive Centers for Recovery and Community Health, @strivecares, or on TWITTER, at Strive Centers @strive_cares,
I just posted an article on LinkedIn.com, titled "Life is transition", to further define that we should always be transitioning to move forward, and I learned to take orders in the Marine Corps, which has helped me make my own decisions with a degree of success in accomplishing some things that I would never have imagined.